Enabling Advanced Disconnect Detection Protocol (ADDP)
Updated on September 11, 2020
Enable support for Genesys' advanced disconnect capability on Pega Call connections to Genesys. This capability, the Advanced Disconnect Detection Protocol or ADDP, allows for quicker detection of network interruptions.
To enable ADDP, edit the local CTI link and check the Enabled box on the Advanced tab: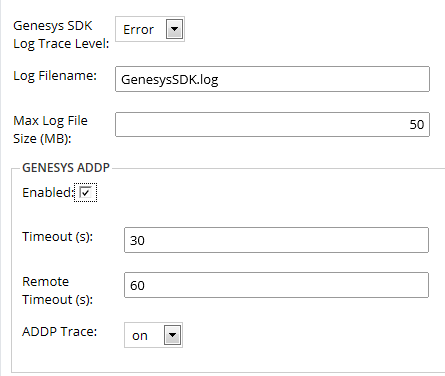 Configure the following fields and save the CTI Link. Refer to Genesys' documentation if you need additional information. The change will take effect the next time the CTI Link starts.
Field
Description
Timeout(s)
If no data has been sent on the network connection for this duration (in seconds), Genesys' ADDP checks network connectivity by sending an ADDP message to the T-Server.
Remote Timeout(s)
This is the time (in seconds) for the T-Server to respond to an ADDP message to confirm that a network connection is active. If this timeout is exceeded, the network connection closes and the system attempts to reconnect. This value should be two or three times as large as the ADDP timeout value.
ADDP Trace
You can turn on Genesys' tracing for ADDP using this menu. If you turn on ADDP tracing, you must also configure Genesys SDK tracing as described in the next section. Choose one of the following:

Off – ADDP tracing is off
On – ADDP tracing is turned on the Pega /Pega Call server. Tracing is not turned on on the Genesys server.
Both - ADDP tracing is turned on the Pega /Pega Call server and the Genesys server