Traditional contact center environment
Updated on September 11, 2020
In a traditional contact center environment, calls come into the contact center and are connected to an Interactive Voice Response (IVR) system (sometimes also called VRU).
The IVR plays voice menus that enable customers to choose from several selections and obtain information related to their account. Callers can subsequently speak to a Customer Service Representative (CSR) for further service, as shown in the following diagram.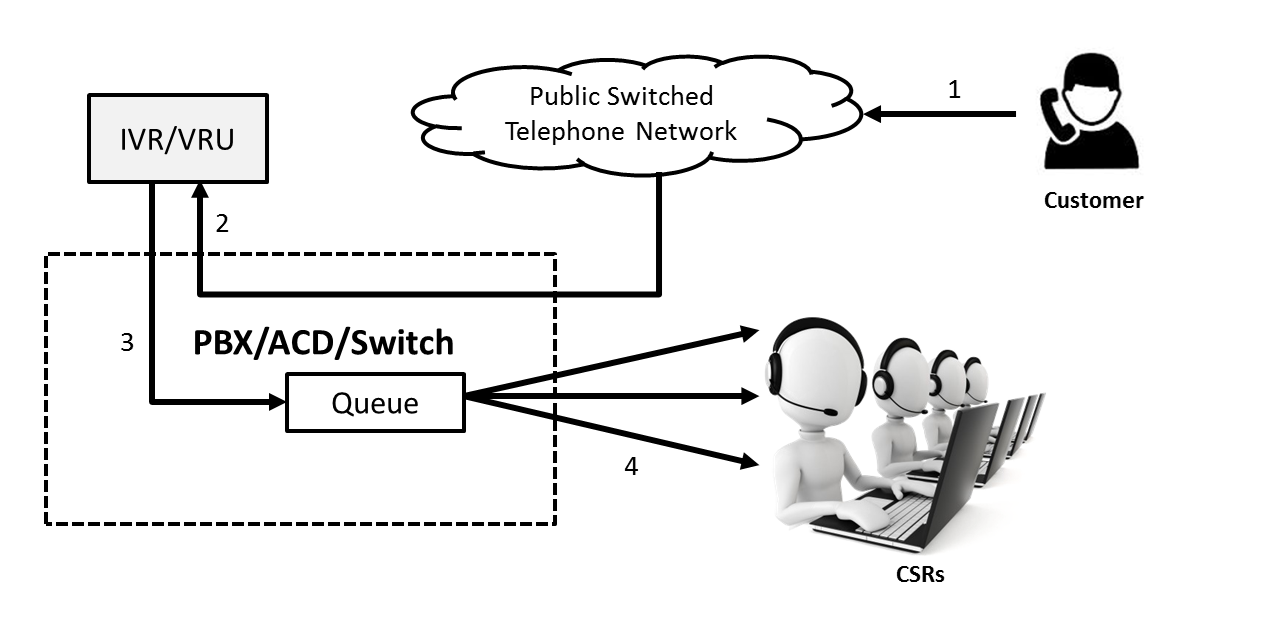 The numbers on the diagram correspond to the following steps. These steps give a high-level overview of a call as it moves through a traditional contact center environment:
A customer calls a contact center. For example, Mr. Brown is a high-balance account holder at the Company. He calls the company's customer service center because he wants to make an adjustment to his account.
When the call arrives in the IVR, Mr. Brown is prompted to enter his account number. He enters his account number, account verification information, and proceeds to move through the IVR voice menus. He then selects the option to make an adjustment to his account. Mr. Brown is unsure about updating his account from the IVR and wants to speak with someone to help him make the adjustment.
Mr. Brown opts to speak with a Customer Service Representative. The call is transferred from the IVR to the contact center telephone switch (often referred to as a PBX or ACD) where it is routed to queue for an available representative.
A CSR becomes available and answers the call. The CSR asks Mr. Brown for his account number again before servicing can begin. Mr. Brown must repeat the account information that he has already entered into the IVR, including his account number and personal identification code (PIN number) because the information is not available to the CSR.
From this overview, it is apparent that the traditional contact center is not servicing the customer as effectively and efficiently as possible. When a customer has to repeat information to a CSR that he already entered into a system, it wastes both the customer and the CSR's time. The result is an unsatisfactory service experience for the customer and increased costs to the company.
Inefficiencies of traditional contact centers can cost a company valuable time, money, and opportunities for building customer relationships.